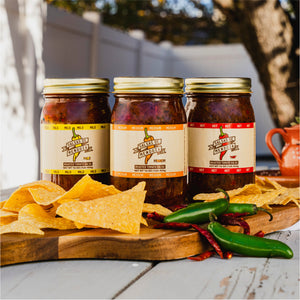 Made With Locally Sourced Produce in Utah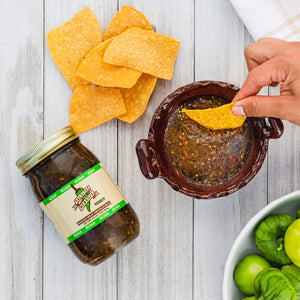 Zero Additives.
Zero Preservatives.
Our Salsa is a Friendly Option for Supporting Vegan, Gluten Free, Keto, or Paleo, Diets.
Our Mission
At Salsas de Mendoza, we are more than just a salsa company – we are a family-owned endeavor rooted in the rich traditions of Mexican cuisine and a deep commitment to fostering a vibrant and connected community. Our mission is to craft exceptional small-batch salsas that not only ignite your taste buds but also cultivate a sense of togetherness, heritage, and shared experiences.

Guided by our passion for authentic flavors and a genuine love for our Mexican culinary heritage, we hand-select the freshest, locally sourced ingredients to create salsas that capture the essence of tradition with a modern twist. Every jar of our salsa tells a story of generations coming together to create a symphony of taste and culture.

However, our purpose goes beyond the kitchen. We recognize that strong communities are built on collaboration and support. That's why we are dedicated to giving back and strengthening the fabric of the neighborhoods we serve. Through partnerships with local farmers, artisans, and community organizations, we strive to make a positive impact on both the flavor of our salsa and the lives of those around us.

At Salsas de Mendoza, we envision a world where every meal becomes an opportunity for connection, where the simple act of sharing a salsa transforms into a celebration of culture and kinship. Our journey is one of nurturing relationships – from the soil that nurtures our ingredients to the relationships we foster with our customers and community.

Join us in savoring life's moments, embracing tradition, and building a community that thrives on unity and shared experiences. With each jar of salsa, we're not just delivering a delectable delight – we're inviting you to become a part of our family and a vital thread in the tapestry of our vibrant community.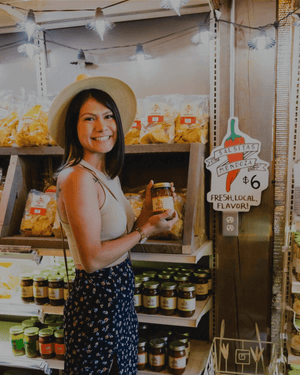 Not just a seasonal salsa
Find us in grocery stores near you
Featured in multiple Harmons and Wholefoods grocery stores across Utah.
Store Locator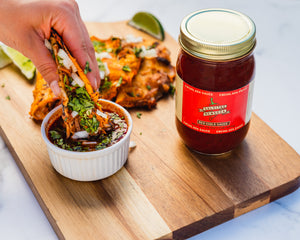 A household staple
Taste home with authentic recipes
Our recipes include a variety of ways you can use our fresh and authentic mexican salsa.
View all Recipes
Explore the Art & History of Salsa
At Salsitas Mendoza, Quality Reigns Supreme. Immerse yourself in history and culture as we delve into the roots of salsa, deriving from the Mayan, Aztec, and Inca civilizations. Our commitment to excellence starts with handpicked, premium-grade produce. Our unique process involves expertly fire-roasting vegetables for that irresistible smoky essence. A medley of fresh peppers, cilantro, and garlic blend seamlessly, resulting in a luxuriously thick, velvety texture. Delight in every jar of Salsitas Mendoza's authentic salsa and elevate your culinary masterpieces with a touch of tradition.
Partnering with local farmers in Utah to provide:
produce picked at its peak for both freshness and flavor!
Embracing the Bounties of Utah's Harvest: A Fusion of Flavor and Community
When Utah's vibrant harvest season descends, Salsitas Mendoza stands hand in hand with local farmers, embarking on a culinary journey that captures the essence of peak freshness and unparalleled flavor. This heartwarming collaboration ensures that our cherished customers savor the very best – produce plucked at its zenith, destined to adorn their tables with the authentic homestyle taste of Mexico.

A Symphony of Freshness and Quality
Our commitment to excellence resonates in every bite, as we curate a symphony of flavors that celebrate the marriage between nature's bounty and artisanal craftsmanship. By uniting with local farmers, we secure a tapestry of ingredients that epitomize quality, creating a culinary experience that redefines the boundaries of authenticity and taste.

Empowering Utah's Agricultural Tapestry
Beyond the delectable dishes we present, our partnership extends its embrace to bolstering Utah's agricultural landscape. This synergistic alliance contributes to a thriving local economy, infusing vigor into the heart of our state's agricultural enterprises. With each jar of salsa, every package of chips, and all our cooking sauces, a wave of support reverberates through our community, creating a sustainable cycle of growth and prosperity.


Here's what our customers have to say!
★★★★★

I was at the Wheeler Farms Market on Sunday and discovered these guys!!!! I have tried about 5 different salsas so far and I am obsessed! I brought the Mango Cranberry Salsa to work and everybody raved how amazing it was! I will definitely be having all my salsa needs met through these guys! Also they told us they deliver!

L Grayson

Google Review
★★★★★

Just bought the Hellfire hot sauce from a local vendor. Amazing flavor, perfect heat. Compliments the food rather than overpowering it.

Brennan loeffler

Google Review
★★★★★

The best salsa ever. I am a big chips and salsa guy, I make sure I hit the farmers market up every weekend just to snag my fix. Also try their taco sauce it's fire!!

Adrian Foster

Google Review
★★★★★

All of their salsa's are so fresh and authentic tasting. I can eat a bag of their chips and a container of their fresh salsa by myself. It reminds me of my grandma Cruz's food.

Blosch Farm

Facebook Review
★★★★★

We bought some of their salsa at the Wheeler  Farmers Market, and WOW delicious! We went through the jar in one day! Got online and ordered a bunch more, and was delivered the next day. The chips are also so good! The products are so fresh and flavorful. I don't think I could ever go back to eating jarred stuff from the grocery store. I highly recommend their products!

Nicole LaBoa Fisher

Facebook Review
★★★★★

Oh my goodness! I am always in search of a really spicy salsa that has great flavor and have been let down by so many that were either too bland, not spicy, or both! I went to the Wasatch Farmers Market yesterday on a whim and got a jar of the Salsitas Mendoza hot salsa and I couldn't be happier! It has been one day and I have less than half a jar left!! I will be coming back again next Sunday for more!

Erin White

Facebook Review
Family is everything
About our founders
Founded by Sergio and Linnaea Mendoza of Sandy Utah, Salsitas Mendoza is quickly becoming a household name.
Learn More About Us
Featured Salistas Mendoza Recipes
View all